VGolf Europe, partner and European distributor of the Trugolf brand
For more than 15 years, Vgolf Europe has been manufacturing and designing its indoor golf simulators, with the support of an excellent partner: Trugolf, creator of the E6 simulation software.
VGolf Europe's ambition is to offer both an immersive and realistic experience thanks to a unique and powerful technical engine that simulates the real conditions of a golf course, as well as a space for relaxation and conviviality that can be easily adapted to the users' space.
Trutrack², a new high-performance tracking system
Our patented TruTrack² system rivals the accuracy of high-speed camera systems and provides the essential data to improve your performance.
Ball flight characteristics are accurately calculated using sound triangulation positioning technologies and optical analysis of club path and club face angle.
Advanced tracking system with integrated swing analysis
Our system, based on patented TruTrack² technology, uses both audio ball tracking sensors and optical sensors, capturing data on your club path and clubface angle during impact.
TruTrack² technology provides an in-depth analysis of your swing: launch angle, clubhead speed, clubface, trajectory, backspin, side spin, ball speed, direction, carry, etc.
Instantly, you can see all the information related to the ball's trajectory and launch.
TruFlight 2 / APOGEE system replicates real golf course conditions
TruFlight 2 /APOGEE feature the latest technology from TruGolf. These multi-camera systems simultaneously capture club and ball data for a complete analysis of player performance. Both club and ball data as well as the point of impact in the clubface.
Over the past two years, our engineers have worked with business managers, homeowners and members of the PGA to develop an aerial launch monitor : APOGEE.
What's more, APOGEE is easily mounted to the ceiling of a hitting station making it easy for both right and left handed golfers to practice.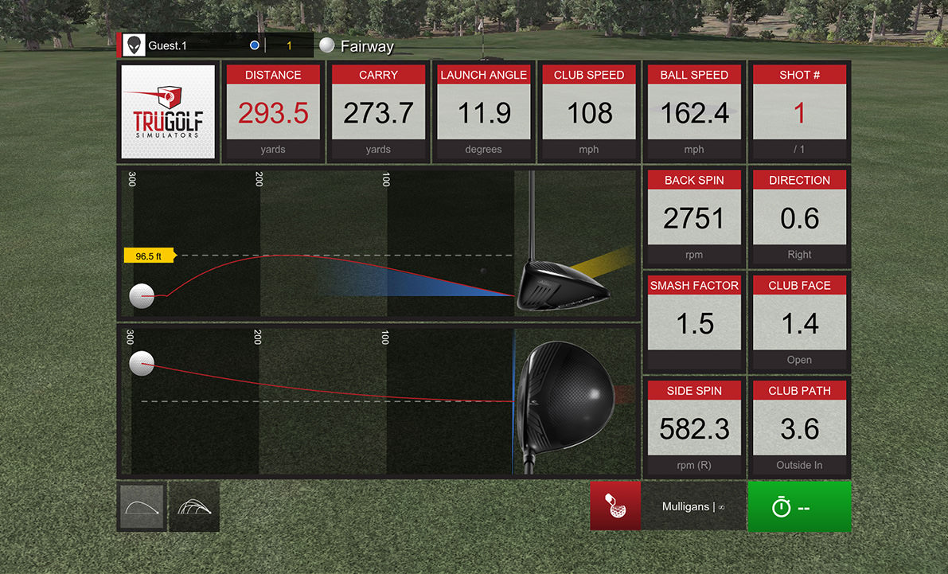 TruFlight 2's advantages :
Multi-camera system,
Simultaneous club and ball data,
Vision of the impact in the club,
Designed specifically for indoor spaces,
Uninterrupted play for both right and left handed golfers,
Aerial device easily integrated into a hitting bay,
Several activities available on the simulator: practice, pitch and putt, targets, course…
Creation of a realistic playing environment : addition of weather conditions such as the management of wind strength, weather, positioning of flags on the course, speed of the greens, etc.
Discover our golf simulator